Grants to youth organisations - application form links
Online application form
Once you have read through the Guidance notes and the Grant application requirements, please click on the Organisation online application form link to determine your eligibility by answering all the questions. If eligible, you will be guided to the main online application form.
If you are experiencing difficulties, please contact the Foundation Office on
Tel: 0207 4012871

Data protection statement
Please note:
When you complete the grant application form you are expressly consenting to your personal data being held by us in accordance with our Privacy and Data Protection Policy. All data entered in the application will be held under the same Policy in accordance with the current General Data Protection Regulations.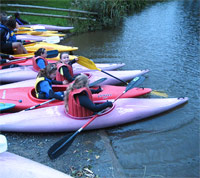 Bede House Junior Club Canoeing lessons
Photo: www.esqphotography.com