Grants to organisations: How to apply
To apply for a grant, you need to complete an application form by downloading it to your PC.


Download application form (Word doc - 778k)

If using a Windows PC, "right-click" on 'Download application form' and select "Save Target As" and work from the copy you save to your hard drive.
If you have difficulty downloading the form, please either write to or e-mail the Assistant to the Clerk to the Governors who will send you a copy.
When the form is complete please post or email it to:
Administration Manager
St Olave's Foundation Fund
St Olave's & St Saviour's Schools Foundation
Europoint Centre
5-11 Lavington Street
London SE10NZ

Email: grants@stolavesfoundation.co.uk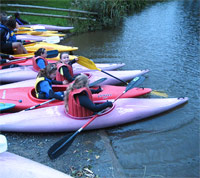 Bede House Junior Club Canoeing lessons
Photo: www.esqphotography.com