Grants to youth organisations - application form links
Online application form
Once you have read through the Guidance notes and the Grant application requirements, please click on the Organisation online application form link to determine your eligibility by answering all the questions. If eligible, you will be guided to the main online application form.
If you are experiencing difficulties, please contact the Foundation Office on
Tel: 0207 4012871
Application form for downloading to PC
If you are unable to complete your application form online, please download the form from the link below and either scan and e-mail it to grants@stolavesfoundation.co.uk or complete it by hand and send by post (together with the requested supporting documents) to:

The Administration Manager
St Olave's Foundation Fund
Europoint Centre
5-11 Lavington Street
London
SE1 0NZ


Download application form (Word doc - 773k)

If using a Windows PC, "right-click" on 'Download application form' and select "Save Target As" and work from the copy you save to your hard drive.
If you have difficulty downloading the form, please contact the Administration Manager on:
Email: grants@stolavesfoundation.co.uk or Tel: 0207 4012871.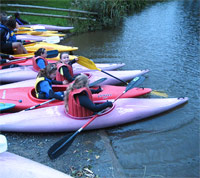 Bede House Junior Club Canoeing lessons
Photo: www.esqphotography.com